Get started in 3 easy steps:
Using the Kappell Wealth Strategies process, we'll examine your current financial situation and determine your retirement needs.
Receive a custom strategy to help you reach your unique retirement goals.
Instant Download
Will the presidential election results impact my retirement?
Find out how you can preserve your hard-earn savings from being exposed to the political winds coming out of Washington D.C.
Attend a Live Event
Attend one of our informational workshops to learn more about retirement income strategies, wealth management and more.
No events are scheduled at this time. Please check again soon!
Now Offering FREE Financial Wellness Benefits with EveryIncome!
Alongside career and finance management tools, get personalized, guided financial education and recommendations covering all kinds of life events and personal finance needs, tailored specifically for you.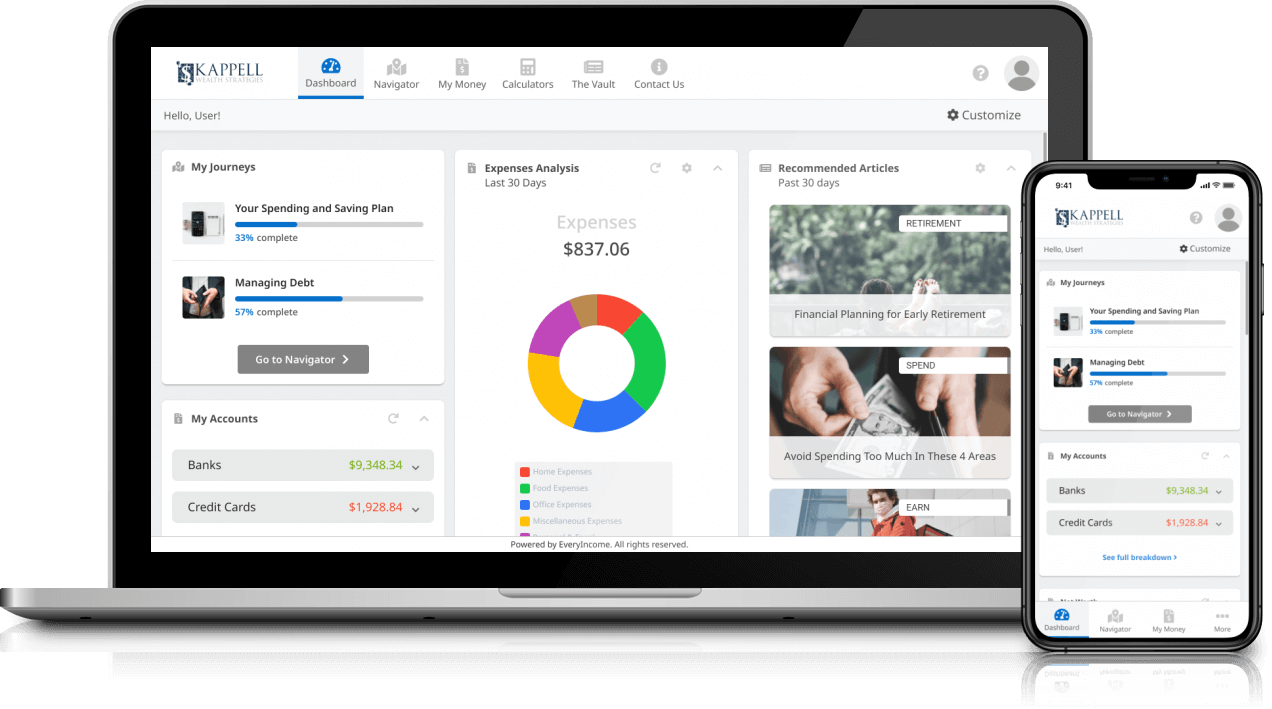 EveryIncome Navigator
Explore personal finance topics with interactive, guided Navigator Journeys — personalized just for you — and learn how to make the best of any financial situation, one step at a time.
My Money
Easily see all your financial accounts and information in one place with My Money — investment accounts, credit cards, bank accounts, and more!
Financial Calculators
Calculate payments, plan for savings, or work out how to take better control of any financial situation with our extensive list of financial calculators.
Career Tools
See statistics on occupation salaries, job demand, skills needed, related jobs, how to boost income, get skill comparisons across occupations, search live job listings, and more!
The Vault
Learn how to take control of your financial future with our vast library of articles and content in the Vault.
Get to Know
Dwayne
Discover how we help individuals and families achieve their ideal retirements.
Free Retirement Planning Book!
Your Personal Financial Help Center, Special Retirement Edition
by Bruce Sankin
This book will tell you:
How to maximize your Social Security benefits.
How to choose the right annuity for your retirement.
How Long Term Care Insurance can help protect your hard earned money in case of illness.
How to protect yourself against Identity Theft.
What to look for in Life Insurance.
What you should know that could save you money! and much more